Diving masks that fit
If you have your own diving mask, we would be happy to retrofit it with your optical glasses – regardless of manufacturer. We also work the glasses into single-lens masks or full-face masks.
If you are looking for a new mask, our selection will definitely help you. We have been specialists in optical diving masks for 50 years and therefore know most diving masks. We have models of well-known manufacturers ready for you that have proven themselves with us. There is a diving mask for every head size and for every requirement. We are happy to supply other diving masks on request.
Look HD by Aqua Lung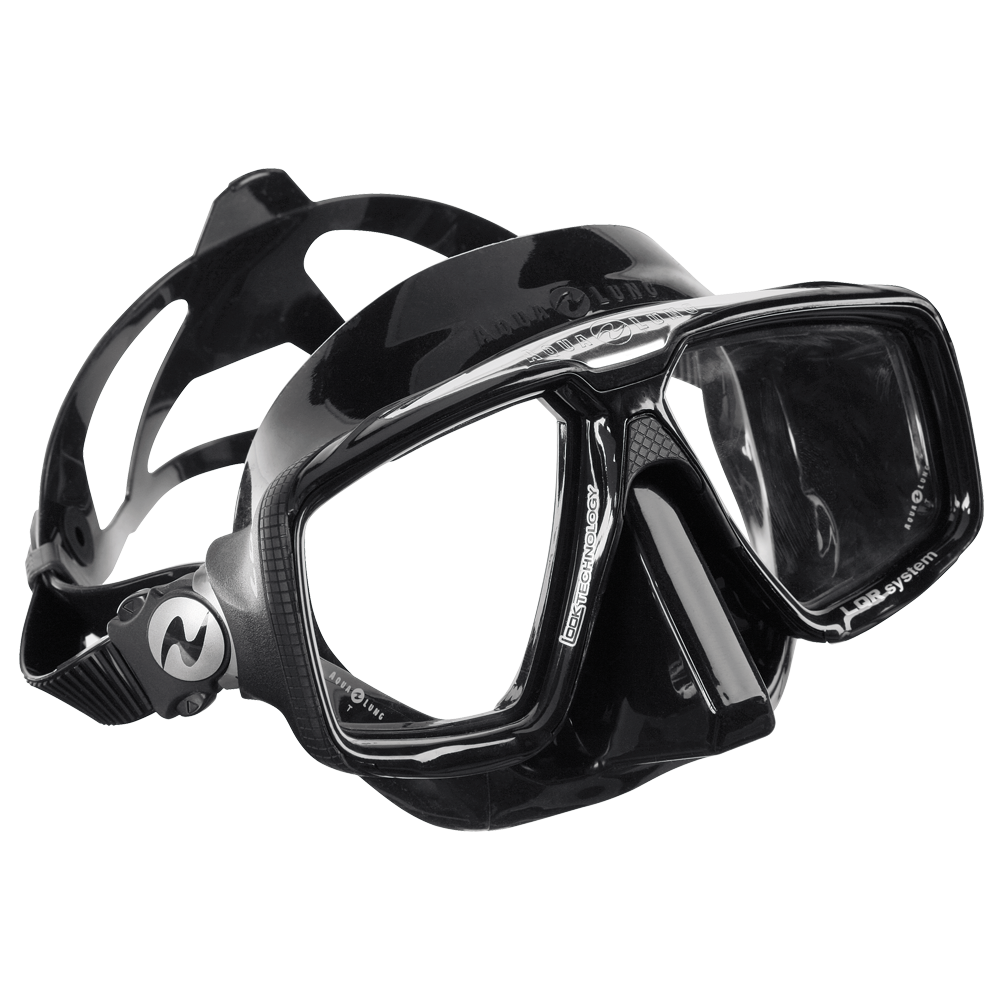 The classic in a new design
Enjoys great popularity
Even more stability and durability thanks to the HD steel frame.
Fits almost everyone, is usually tight and hardly fogged up.
Can be easily disassembled and cleaned
Euro 75
Look by Aqua Lung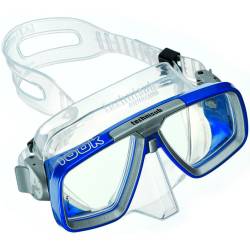 The classic diving mask
Enjoys great popularity
This diving mask is characterized by stability and durability.
Fits almost everyone, is usually tight and hardly fogged up.
Can be easily disassembled and cleaned
Euro 65
Technisub Mikromask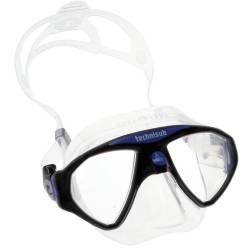 Low internal volume
Ideal for apnea diving and playing underwater rugby
Cardanic Joint System: the mask strap buckles can be rotated in two dimensions, so the mask adapts to narrow and larger heads.
Dimensionally stable silicone
Minimal water resistance
Euro 69
Freedom one from Tusa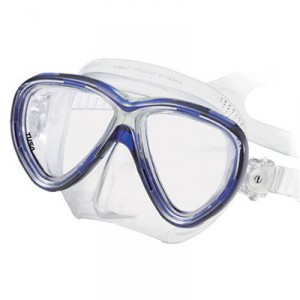 Two-glass mask with a field of vision through deep-drawn windscreens.
Very popular: Suitable for all heads quickly
Spare parts available
Very soft, adaptable silicone,
With grip zones on the forehead and mouth to prevent water ingress
Euro 75
Freedom Ceos by Tusa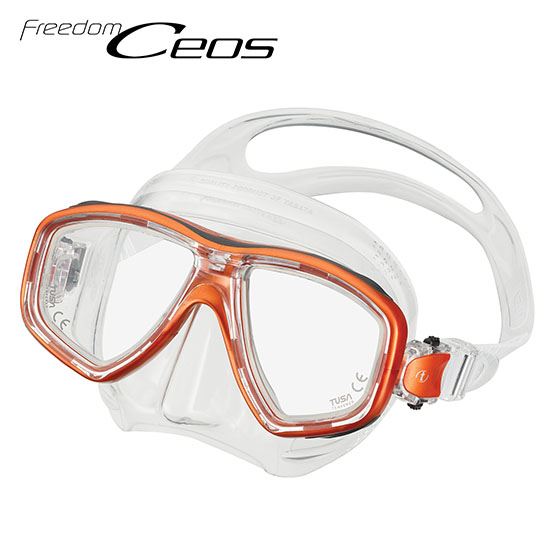 One of the most stable masks on the market
Spare parts available
Classic design
Good field of vision
Very good fit for normal and narrow heads
Very soft silicone, therefore hardly any pressure points after diving
With flu zones on the forehead and mouth to prevent water ingress
Euro 75
Freedom Elite by Tusa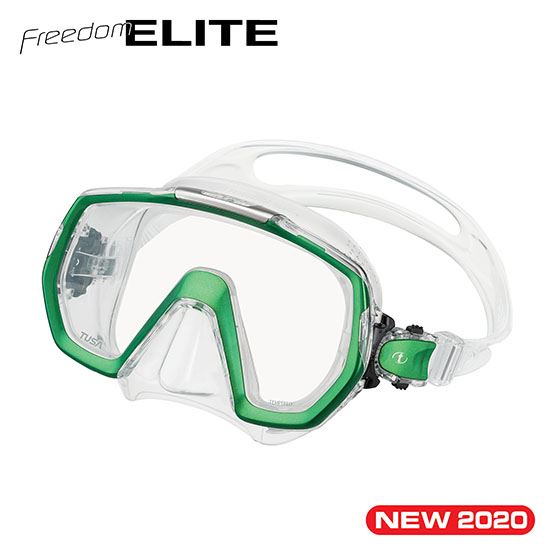 Can be equipped with optics
Large, undivided field of vision
Modern design
Very popular: Suitable for normal and narrow heads
Very soft silicone, therefore hardly any pressure points after diving
With flu zones on the forehead and mouth to prevent water ingress
Euro 75
Freedom HD by Tusa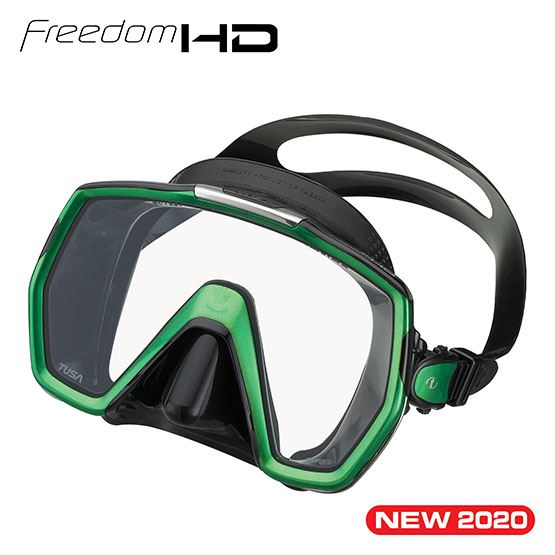 Can be equipped with optics
Large, undivided field of vision
Modern design
Very good fit for normal and larger heads
Very soft silicone, therefore hardly any pressure points after diving
With flu zones on the forehead and mouth to prevent water ingress
Euro 85
Big Eyes Evolution crystal by Cressi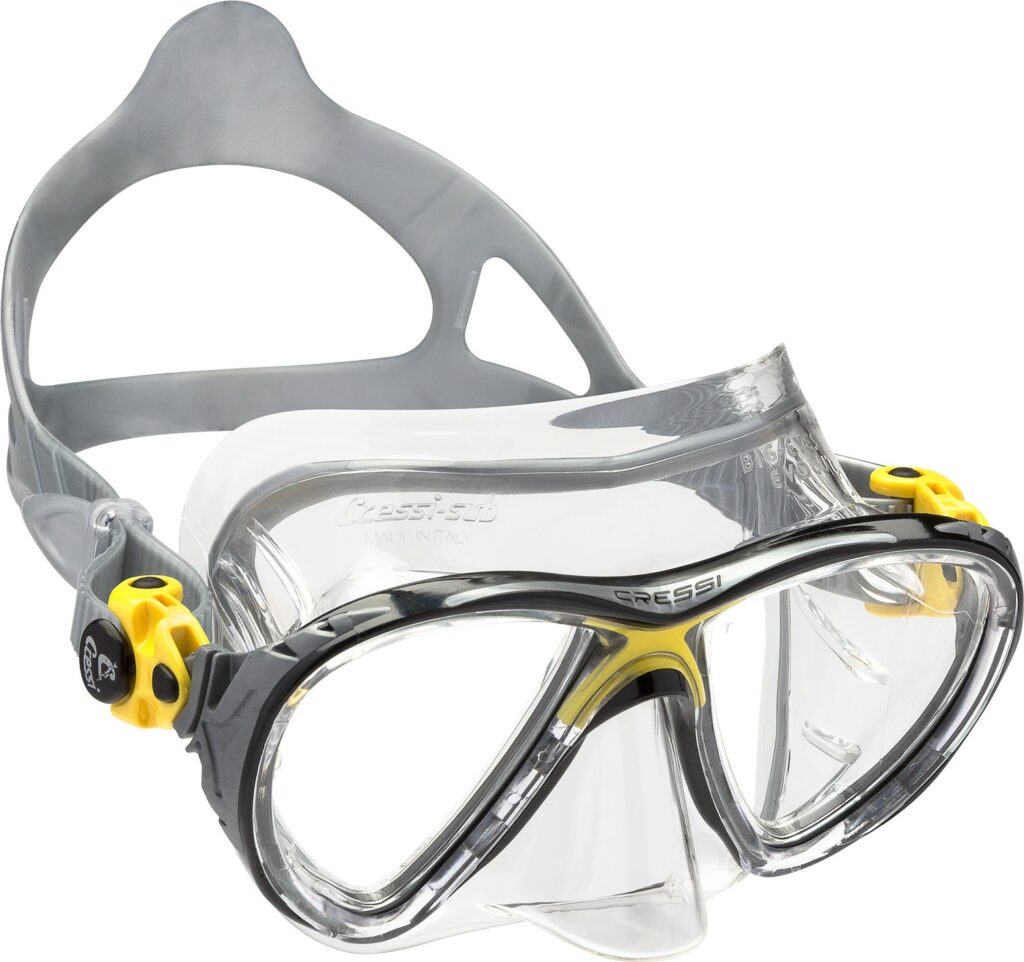 Two-glass mask with a large field of vision thanks to slanted windscreens.
The mask is characterized by a particularly soft, transparent silicone "Crystal" that hardly yellows.
Takes up little space in diving baggage thanks to its special construction
Suitable for normal heads
hardly fogged up
also available in black silicone
Euro 75
Eyes Evolution crystal by Cressi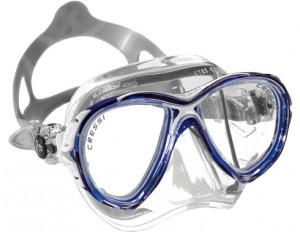 The little sister of the Big Eyes Evolution: two-glass mask with a smaller mask body and smaller front glasses
Large field of vision thanks to slanted windscreens.
The mask is characterized by a particularly soft, transparent silicone "Crystal" that hardly yellows.
Takes up little space in diving baggage thanks to its special construction
Suitable for narrow heads
Hardly fogged up
also available in black silicone
Euro 75
Focus from Cressi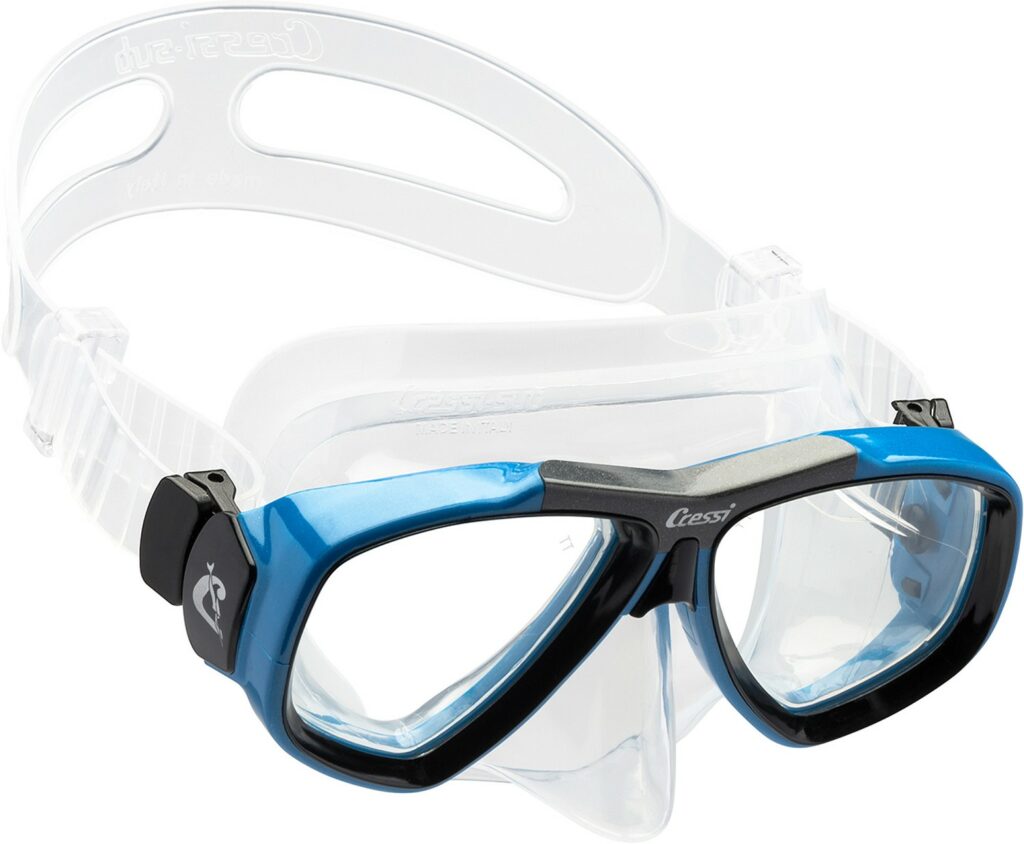 Two-glass mask for narrow heads
Mask body made of firmer silicone
Good field of vision
classic design
also suitable for young people
Stable and robust
also available in black silicone
Euro 60
Big eyes by Cressi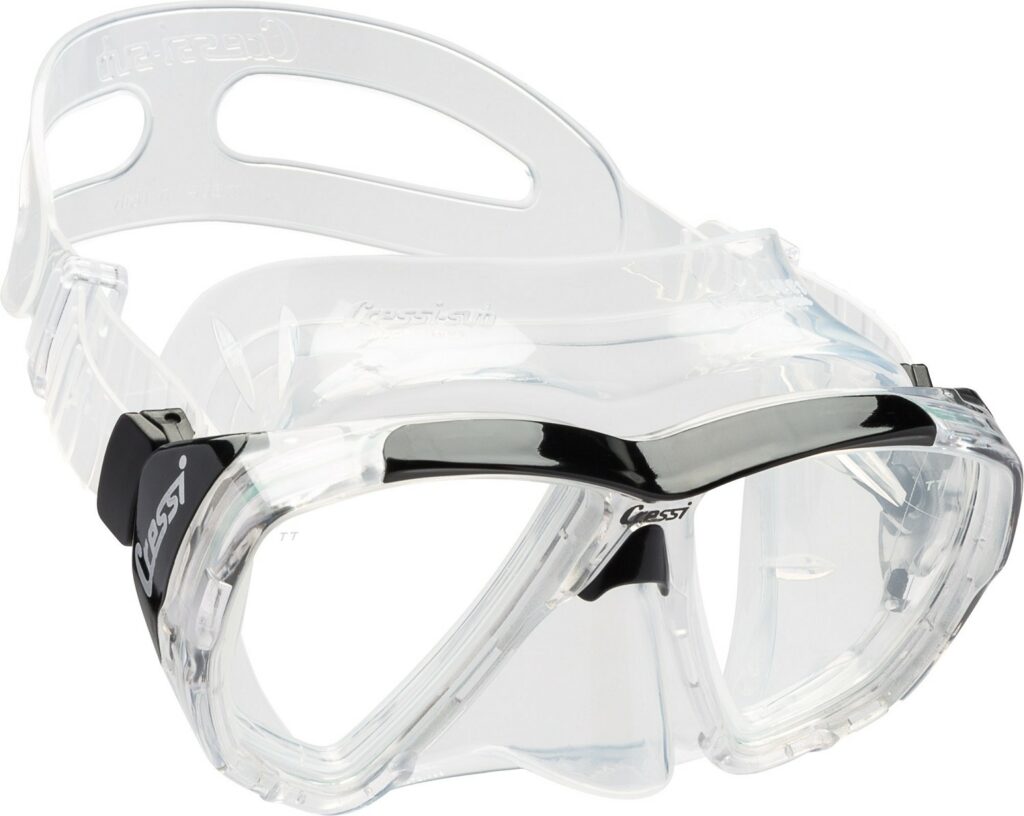 Two-glass mask for big heads
Mask body made of firmer silicone
Large field of vision thanks to deep-drawn windscreens
Stable and robust
also available in black silicone
Euro 65
Nano by Cressi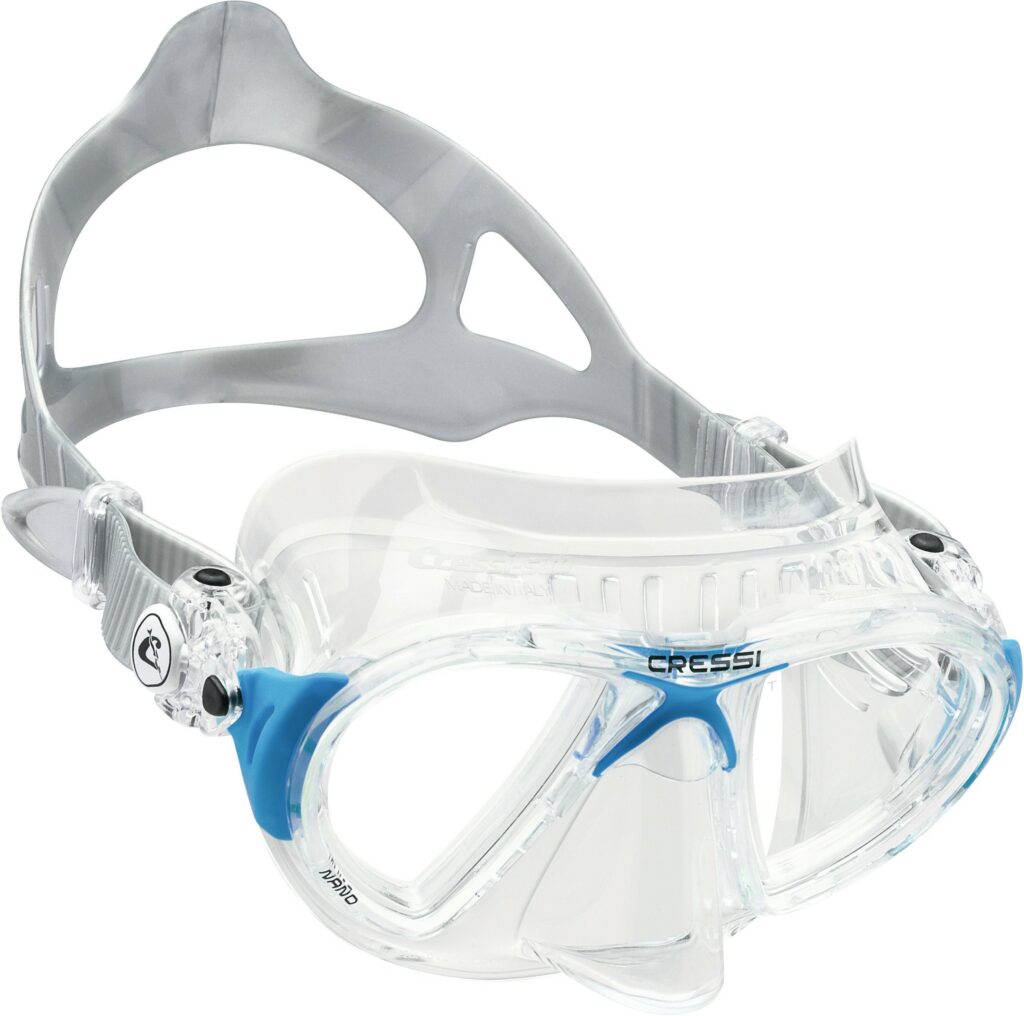 Two-glass mask for narrow heads
Ideal as an apnea mask
Good field of vision
Modern design
also available in black silicone
Euro 75